Black Friday 10lb Boneless Breast Case Sale from 24/11/23 - 26/11/23
Order over the weekend and receive $10 off our 10lb boneless breast cases with no minimum or maximum order amount! This is only for our frozen bulk cases! We will add you to the next available delivery route based on your location!
Shop 10lb Breast Cases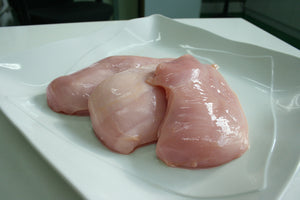 We strive to offer the best products for our home delivery service - and that includes some new businesses!
View our collections to see all of our wonderful products and be sure to check out our Home Delivery page for information on how we deliver door to door from Edmonton to High River!
We offer backs, feet, hearts, liver, and gizzards under our Chicken Parts/1lb Packages section!
We do not sell live birds or offer transport/processing for other farmers!
We are so happy to offer new products for home delivery!
Please take the time to browse from a handful of incredible local businesses that embody homegrown values and place emphasis on product quality matched only by their passion for positive growth and sustainability.
We are humbled to offer products that are crafted from the same ideals that we hold for our own farms, and work with motivated and proud owners/operators of Albertan and Canadian businesses.
Local Business Partnerships
---
Myranda's Heat & Eat Collection
---
Keeping it in the Family
Into its 3rd generation in Alberta, but continuing from our Fraser Valley BC roots from the late 1950's, the Dyck farm sets the standard to raising superior quality chickens and turkeys with the same level of quality that has been established since the beginning.
Visit About Us to read more.
Bowden Farm
1146 Twp. 344
View our farm on Google Maps
PO Box 413 Bowden Alberta, Canada T0M 0K0
Farm pickups between Thursday-Sunday afternoons, please email to set pickup time.
Sundays always Closed